So you decided you want to home sew, and your not sure where to begin. The biggest and most important decision is the sewing machine. This is getting a blog all on its own because it is very important.
I will tell you is having a good sewing machine is a must, but you don't need all the bells and whistles. Nowadays many sewing machines are computerized, some have fancy features and stitches, but for 99% of all projects those added features are a waste. You don't need them. What you need is a machine that is going to give you the longevity and reliability for all your projects years to come. I always suggest a base model mechanical/manual machine. You don't want to go for the cheapest, but you don't need to spend lots of money either. A sewing machine should be an initial investment since it is the center and a staple of all your projects but let us not go overboard.
There are some reliable names like Husqvarna Viking, Bernina, Juki, Singer, and others, so how do you decide what's right for you? Well, this will take some research. Talk to people at fabric stores, (but bear in mind they make sales commission and sometimes have contracts with certain companies) tell them what types of things you are looking to make. Clothes? Costuming? Home Decor? Other types of crafts? Also ask around in Facebook sewing communities. Different brands will have different price points.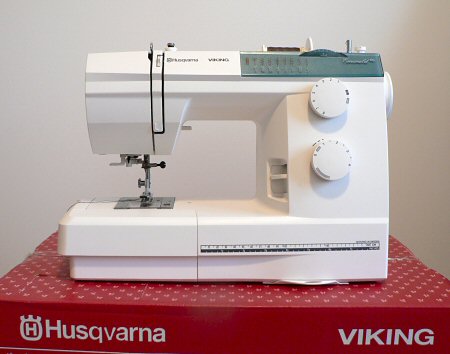 From experience I would ask how the machine handles heavy fabric or multiple layers, what about light and delicate fabrics, and any tension issues. Those are the most common hiccups you might have with machines. Be prepared to spend no less than $200.00 but you don't need to ever spend more than $500 for a beginner home sewing machine. Something like this Viking model is more than adequate and can be purchased around $350.00. Viking is a great reliable brand that handles several layers of heavier fabric just fine, and a base mechanical model like this will last you forever if you take care of it.
To clarify what I mean by a mechanical machine is that you manually change the settings but turning the dials, not hitting a button and the machines internal computer doing it for you. The picture above is a mechanical machine. The picture of the Singer is an example of a computerized machine. I have this Singer, but I also have my moms New Home which is mechanical. I prefer her New Home.
Lastly about sewing machines, is get a full-size machine, not a mini or portable. Working with a full size is so much easier when you are learning. There are other types of machines out there, like embroidery machines, sergers, and so on, but those not needed right now, so don't even look at them. Those types of machines are nice convenient additions, but you will always still need a sewing machine. Lots of features those machines offer can be imitated with a sewing machine, and I will explain more later.
For those more experience leave advice and suggestions below. Next, I will talk about reading pattern instructions, making mock-ups, fabrics, and notions.
Jessi Harm aka The Evil Regal